A Non-Surgical Remedy for Sport Injuries
Clinical orthopedic manual therapy relieves muscle and joint pain. When manual therapy is combined with Pilates, it becomes a powerful, non-surgical remedy for sport injuries.
According to well-known strength coach Michael Boyle, sport injuries can be broadly classified into two types: traumatic and overuse injuries. Traumatic injury is an injury sustained from a fall or a sudden force due to a collision. Overuse injury, on the other hand, is an injury that happened gradually. The injury is usually due to faulty movement pattern repeated overtime. Overuse injuries are more common than traumatic injuries among athletes. 
Boyle has trained some of America's best athletes. He said, unfortunately, sport medicine treats all injuries like they are traumatic injuries. They are typically treated with Rest, Ice, Compression wear and Elevation (RICE,) and for the more severe injuries, surgery is recommended. The approach has so far, not worked as well on overuse injuries, which is what most athletes have:
"If your problem took time to develop, it will probably not be solved with a conventional RICE approach. This leaves a lot of frustrated people out there."
Boyle said what works for overuse injuries is an exercise programme that corrects the faulty movement pattern. The exercises remove the stress on overworked joints. You actually become stronger by being more efficient in your movement.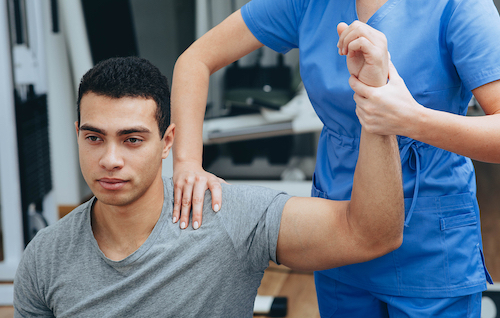 IMPROVE STRENGTH FASTER
Exercise is a key to injury recovery. When manual therapy is combined with exercise, it has shown to re-build strength even faster.
Shoulder injury is a common overuse injury. It is particularly prevalent in sports like tennis, swimming and volleyball, which require frequent overhead activity. A study by American researchers Michael Bang and Gail Deyle found a combination of manual therapy and exercise was more effective than an exercise-only programme for shoulder injury recovery.
The study involved participants from 18 to 65 years old who suffered from shoulder impingement syndrome. They were divided randomly into two groups. One group received both manual therapy and exercise, while the other group were given exercise only. 
For the group who received manual Therapy and exercise, the pain-relieving therapy was applied on the shoulder, as well as on the cervical and upper thoracic spine when necessary. Both groups received similar shoulder flexibility and strength exercises. The study was conducted at the Kaiser Permanente Medical Center in Vallejo, California. Each participant received six 1-to-1 sessions over three weeks at the center. 
After three weeks of training, both groups reported feeling less shoulder pain than at the start of the study. But the group who received both manual therapy and exercise performed significantly better. They had less pain, more shoulder function, and remarkably gained more arm strength than the group who received a 100-percent exercise programme. 
CREATES 'OPTIMUM CONDITIONS' FOR STRENGTH TRAINING
The researchers attributed the strength gain to manual therapy. The manual therapy increased the range of motion in which the participants could move pain free. As a result, it created "optimum conditions" to build strength, the researchers wrote.
There are very few studies that examine the effects of combining manual therapy and exercise, so more research is needed. According to a peer review, there is also a need to set better parameters for the research.
But the three-week study highlighted the enormous potential of a manual-therapy-plus-exercise programme. It was possible to create "effective outcomes" even when it was given for a short period, the researchers wrote.
PILATES OFFERS A DIFFERENT TYPE OF STRENGTH TRAINING 
As an exercise programme, Pilates is a good fit to manual therapy. Pilates has a long association with rehabilitation. Pilates offers a different type of strength training, compared to conventional strength workout. This is particularly helpful if you have an overused joint, and are looking for an alternative source of strength and power.
Conventional strength training typically involves training big muscles of the body like the chest, back and legs. The goal is to create muscle hypertrophy, which increases strength. Power is then possible when there is more strength.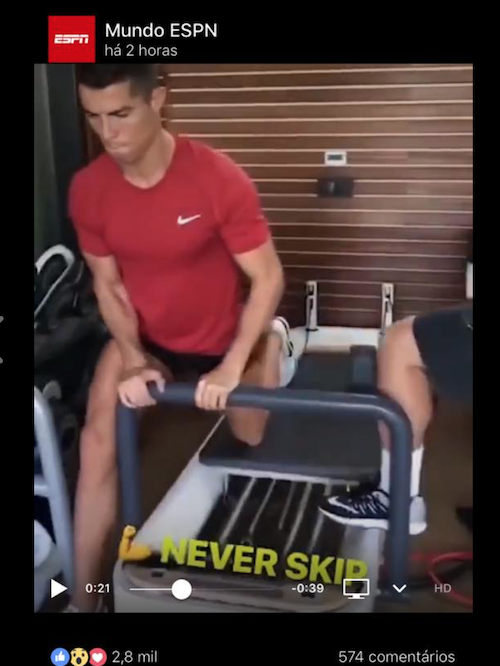 GENERATE MORE POWER WHEN YOU RUN, PASS A BALL
On the other hand, Pilates trains core muscles, the deep stabilising muscles of the abdomen and trunk. Although not as large as the big muscles of the body, core muscles play an active role in bringing stability to the body. When your core muscles are strong, they create extra stability around the lumbar spine, which opens up movement at the hip joint. When the lumbar spine is stable and the hips are free to move, they allow you to generate more power when you are running or passing a ball.
Football star Cristiano Ronaldo is one of the most famous athletes who practices Pilates. He has shared many photos of himself performing Pilates exercises on Instagram.
PILATES COMPLEMENTS YOUR SPORT
More core stability also translates to better balance and more efficiency when you move. Pilates draws from a different energy system. As it trains a different set of muscles, Pilates is a good complement to the various exercises that you do.
Former American competitive swimmer Missy Franklin was also known to have included Pilates in her off-pool training. In an interview with the Denver Post, the five-time Olympic gold medalist credited her Pilates instructor for helping her with her posture. Her Pilates instructor, Ann Daxberger in the same interview said she tailored Franklin's exercises to reverse the effects of swimming: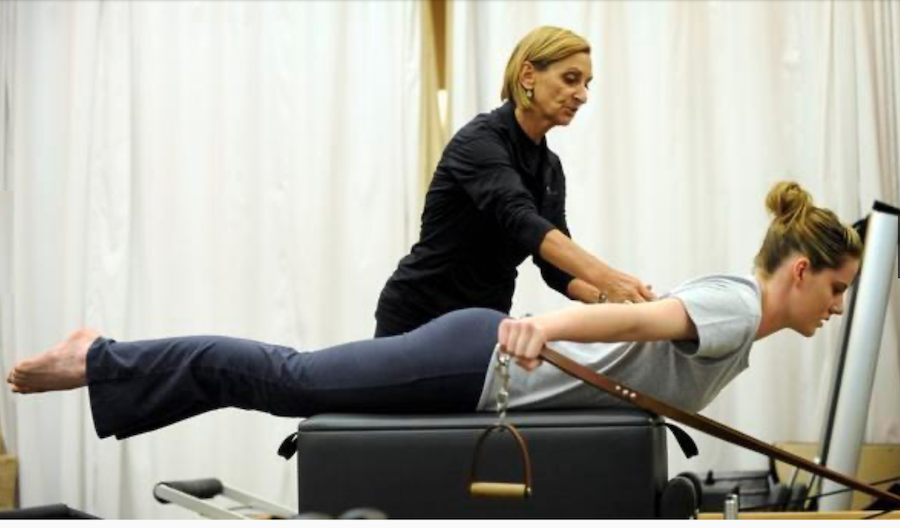 "Swimmers tend to have shoulders that elevate and rotate inward. So strengthening the extensors, rotators, deep abdominals can improve alignment."
Pilates exercises prevent rounded shoulders and bad posture. Other benefits of Pilates include better concentration and breath control, which are also important in competitive sport, said Daxberger.
MANUAL THERAPY AND PILATES EVEN BETTER TOGETHER
On their own terms, Manual Therapy and Pilates are good remedies for rehabilitation. But when they are offered together in a programme, they become an even more powerful force for healing. The programme offers pain relief and a new blueprint to move, which works wonders when you are an athlete with an overuse injury. You can't continue with the old blueprint because it is causing the pain. The combination allows you to avoid surgery, recover and activate muscles you have not used before.
Give Manual Therapy and Pilates a try. Get started. 
---
Medical Disclaimer: Always consult your physician if you have an existing pain or a pre-existing medical condition before beginning any exercise. The above information is not intended to diagnose any medical condition or replace your healthcare professional.
Sign Up for a Trial


6996 4396

 today to learn more or register below:
A surprisingly pleasant intro to Pilates

Thank you for a very surprisingly pleasant introduction to Pilates. I am an experienced athlete and a professional diver with chronic stiffness in the neck and shoulders. Today, I found new skills to augment what I already knew, and a focus on proper technique for great results. I felt very effectively engaged.
Knee exercises and activities that I can continue on my own

Working overseas, I came back to Singapore for a short four week holiday and thought I should get some Pilates classes to further strengthen my weak knee due to a meniscus tear. I found Move Therapy by googling and signed up for my 1-to1 trial class. May went through my problem and what the doctors did for me. She then designed a set of exercises and activities which I could continue on my own when I go back to work, overseas. After my first trial lesson, I was just so amazed by the differences in my legs. When I arrived back in Singapore, although I've recuperated from the meniscus tear through physiotherapy and physical therapy at the hospital, my legs still felt swollen and stiff. I was not able to bend my knees. My attempts at swimming, which was recommended by the doctor, was hard, as I wasn't sure how to move anymore. After my first session with May, my leg muscles felt more relaxed and subsequent sessions continued to make me feel I'm near full recovery. The exercises and activities May prescribed were easy enough to continue at home and in a gym anywhere I go. Thanks!
I'm running more, have less injury

I am an avid runner. I run 10km a few times a week. I had hurt my ankles, calves just to name a few of the body parts I'd injured from running. Many of times I didn't wait until I have completely recovered before I resumed running. It had resulted in the injury being prolonged. After attending May's Pilates classes for about a year, I have gained better awareness of my body and movement. May taught me a lot about core strengthening, maintaining good posture and about movement. I'm more aware of my running posture. I find myself correcting my posture on the go like altering my foot alignment when I encounter discomfort, as well as how to stretch after. I can run more often because I have less injury now. Thank you May.
MY BACK FEELS BETTER

"I'm in my early 20s. Having a lower back strain for close to 3 years, I can really feel the difference after attending May's Pilates group lessons. I've been attending for 10 weeks. I can feel that my posture has improved significantly and my back doesn't hurt as often as before. Thank you!"
What Are Core Muscles?
Core muscles are deep stabilising muscles of the abdomen and trunk. When core muscles contract, they create a compressive force around the lumbar spine which stabilises the lumbar spine and keeps the abdomen compact and strong. The same compressive force has a slimming effect on the waistline.
Can core exercises trim belly fat? Are the "six packs," core muscles?

Learn More
5 Exercise Tips for Hypothyroidism
The thyroid gland may be a small endocrine gland, located in the front of the neck, but it plays a big role in controlling the body's metabolism. Constant fatigue, weight gain and joint pain are common symptoms of an under-active thyroid gland.
Exercise is not on your "to-do" list when you are battling with tiredness. But exercise is the best thing you can do. Exercise like Pilates is gentle on the body, yet offers a full-body workout, so that you work all the major muscles in the body…

Learn More