Knee Care Pilates
RON FLETCHER'S STORY ON THE MAGIC MACHINE
Some of the best Pilates instructors started Pilates due to an injury or pain. Ron Fletcher (1921 – 2011,) an influential Pilates teacher and dance choreographer was one of them. Chronic knee pain almost ended his dance career, Fletcher said in his autobiography.
That was until a schoolmate suggested he try Pilates. "Almost 50 years ago, and I clearly recall how good it felt," Fletcher said of the fateful day. It was around 1945 in New York City.
Joseph Pilates (1883 – 1967,) who invented Pilates, put him on the reformer, which Fletcher described as the "magic machine." Pilates created the reformer to help invalids, interned at Knockaloe during World War I. The men could not get out of bed, so Pilates invented the reformer, a moving bed made of springs and straps for resistance, to help them exercise and get well.
The Knockaloe camp is located on the Isle of Man, off the coast of Great Britain and Ireland. Joseph Pilates, a German living in Great Britain at the time of WWI, was interned at Knockaloe due to strong anti-German sentiment in Britain during the war. After the war, he returned to Germany. Shortly after, in the early 1920s, Pilates emigrated to the United States and set up a studio in New York City. He was living in New York when Fletcher met him.
The iconic Pilates reformer, which you see in Pilates studios, as well as in gyms and rehabilitation centres of hospitals, still looks very much like the original equipment Joseph Pilates created. The springs from the original reformer were believed to have come from bed mattresses. The use of springs for resistance is the most distinctive characteristic of Pilates exercise.
BENEFITS OF THE REFORMER
"That Reformer is a brilliant piece of Pilates," said Fletcher, who would take Pilates to Hollywood and make it popular. Screen legends like Eva Gabor and Steve McQueen were among his clients.
Fletcher said it does not matter if you feel weak or have injured one part of the body. Lying supine on the reformer, you would still be able to "properly engage" and exercise specific muscle groups, that you would need to strengthen in order to get better. The "ingeniously placed" springs and straps allow you to be "unhampered by your own weight," said Fletcher.
So if gym workout or doing aerobic exercises is too much of a load for your knees, the Pilates reformer is a good equipment to help you stay fit. Exercising on the reformer allows you strengthen leg muscles and practice better alignment, without being in a standing position.
STRENGTHEN CORE, STRETCH TIGHT MUSCLES 
Pilates exercises also improve core strength, and help you stretch out tight muscles:
"I believe that I am the most fortunate person to be lengthened out and centered on the Pilates Reformer by Joseph H. Pilates," said Fletcher.
Even for Fletcher who was in his late twenties at the time, his recovery took time.
"It was a slow time at Pilates, so I fortunately was given a lot of time and attention, learning so many things from this brilliant, impatient, sometimes irascible tough old German who seemed ageless," Fletcher said of his experience with the great man.
Fletcher recovered from his chronic knee pain, and would become a successful dance choreographer. After his career ended, he moved to Hollywood, where he opened a Pilates studio. His Pilates career would bring him more enduring success. You can read more about his life and work online at Fletcher Pilates.
START TODAY
The Pilates reformer is one of the best equipment for rehabilitation and to stay fit. As you get better, Pilates offers exercise progression to take you further on your recovery and fitness.
For example, you may start off lying on the reformer, but eventually, you could be kneeling, standing or even planking on the reformer! You would also be doing exercises on the mat and on other Pilates equipment. Beside the reformer, Joseph Pilates also invented the trapeze table or the Cadillac, the Pilates barrel and chair. You would never get bored with the exercise. You can stay active even with knee pain. Give Pilates a try today.
We offer Pilates 1-to-1, Duet and Group classes. If your knee pain is persistent, we also offer Manual Therapy for Knee Care to loosen  muscle tension at the knee before the exercise. Manual therapy can be done with Pilates 1-to-1, or as a separate session. Select from below the programme that best suits you: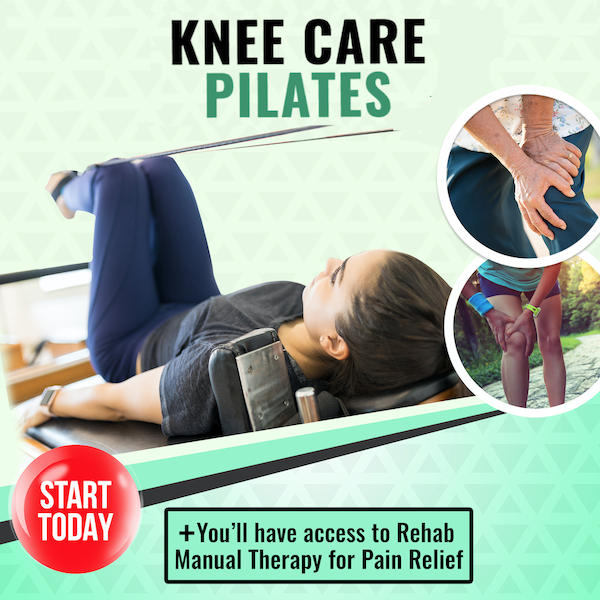 Pilates 1-to-1
Are you starting to feel a dull ache or pain on your knee when you walk or run? Or has Zumba or line dancing become too strenuous for your knees? Try Pilates for fitness and knee rehabilitation. What you will receive:
A personalised Pilates session to suit your need
Do leg exercises on the reformer without pain; strengthen the knees and improve leg alignment
Stretch your quads and hamstrings, the main muscles of the knee, while strengthening your core muscles
Improve sitting and standing posture
Go slow on exercises you find difficult, speed up on exercises you find easy; exercise at a pace that suits you: good for beginners
Access to Rehabilitation for pain relief, manual therapy is included in the session at no extra charge. See Knee Care Manual Therapy for more details
Sign up for a trial today
  (65) 6996 4396 today or sign up below

Knee Care Manual Therapy
You want to exercise and stay fit, but the knee pain is preventing you from doing more. If the pain is persistent, and certain area of the knee feels tight, try manual therapy for knee rehabilitation. What you will receive:
An assessment of the pain and range of motion
Manual therapy to loosen muscle tension on the knee joint: feel better
Improve knee movement: improve knee flexion and extension, walk with less restriction
Receive stretching and strengthening exercises for the knee which you can do at home
Address the leg misalignment such as bowed leg or knocked knee for more long-term relief; also address related pain, such as back or hip pain which may accompany the knee pain
Have access to Pilates exercises to stretch and strengthen further; Pilates is included at no extra charge
Sign up for a trial today
 (65) 6996 4396 today or sign up below.