Pilates for Breast Cancer Recovery
In New York City, nearly 70 years ago, when dancer Eve Gentry found she could not raise her arm following a mastectomy, she turned to Joseph Pilates (1883 – 1967) for help.
After all, Pilates exercises had earlier helped her recover from low back and knee injuries. She believed Pilates would again help her recover from breast cancer. She exercised with Joseph Pilates for a year to rehabilitate her chest and shoulders.
WHY PILATES
Gentry made a remarkable recovery as seen in a short film she made in 1956 with Joseph Pilates. She performed arm circles on the Pilates reformer. She showed strength and a full range of motion at the shoulder joint. The film was made in the hope that other cancer patients like her would benefit from Pilates. She was told the doctors would not believe she had breast cancer, as her arm movement was too good. So she did the exercises top-less. The short film survived today.
SHORT FILM BY EVE GENTRY (1956)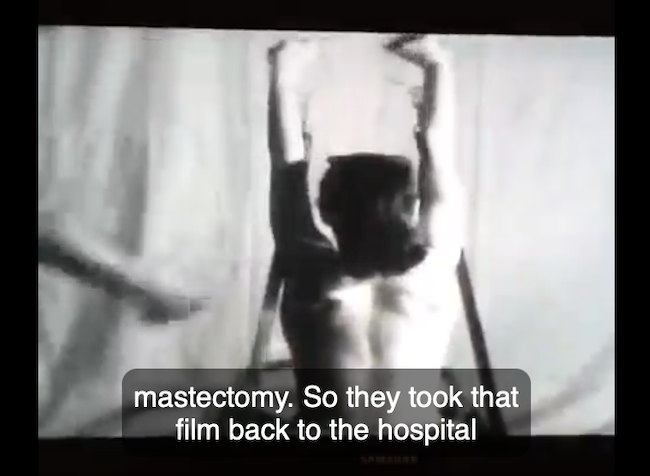 Watch the 30-second film clip on the Australian Pilates Method Alliance (APMA) Facebook page.
Despite her efforts, the response from the hospital was lukewarm. It would take another 50 years or more before the benefits of exercise for cancer patients are better understood.
"Not so much so now, but certainly 10 to 20 years ago, there were concerns among clinicians and patients that physical activity would exacerbate the condition, that it would make the disease worse…but this hasn't been borne out in scientific research," said Robert Newton, a leading exercise oncologist from Edith Cowan University in Perth, Australia.
WHY EXERCISE
IMPROVES SURVIVAL RATE
In fact, studies show regular exercise greatly improves the survival rate of breast cancer patients.
Speaking in a webinar in 2020 on "Exercise as Medicine for Cancer," organised by the American College of Sports Medicine, Newton cited a 2016 study which reviewed 26 cohort studies that examined the efficacy of exercise on cancer patients.
Breast cancer was the most studied, followed by colorectal and prostate cancer. The researchers found a 37% reduction in cancer-specific mortality risk across the studies for patients who exercised the most, compared to patients who exercised the least.
"There is not a single study reported here (in the review) which actually shows exercise has a detrimental effect," said Newton, adding, "this is highly consistent with studies in the last couple of decades." Exercise is seen as safe for cancer patients.
CHANGES TUMOUR BIOLOGY
Exercise is beneficial because physical activity increases the circulation of blood and oxygen in the body. More blood and oxygen in the body reduce systemic inflammation, improve the immune system, and provide a better delivery of medication into the body.
The profusion of blood and oxygen in the body as a response to exercise create a "cancer inhibiting" micro-environment in the body, Newton said. As many as 10 possible mechanism which are cancer suppressants occur in the body when you exercise, said Newton.
In contrast, a sedentary lifestyle is associated with high levels of metabolic hormones such as insulin, glucose, and sex hormone like oestrogen. All of which are "cancer promoting," said Newton. Being inactive also increases the risk of inflammation and autonomic dysfunction, where the body's nervous system is compromised.
PREVENTS OBESITY & SARCOPENIA
"Each time you perform an exercise bout, you get spikes in exercise factors which reduce cancer growth and risk," said Newton who has published over 900 scientific papers on exercise for cancer patients.
Regular exercise also prevents obesity and sarcopenia, a condition where there is a sharp loss of muscles mass. Both conditions are linked to higher rates of cancer recurrence.
Today, regular exercise is recommended for breast cancer patients to promote recovery and prevent recurrence. Being physically active reduces of risk of cancer-specific mortality and improves the quality of life.
LEGACY LIVES ON
Almost 70 years ago when Eve Gentry showed the benefits of Pilates to her doctors, she was rebuffed. Her fight with breast cancer had a significant impact in her life. Gentry went on to teach Pilates after she retired from dancing. She is one of the first generation teachers, or Pilates "elders." It is a term to describe Pilates teachers who learned directly from Joseph Pilates. Gentry passed away on 17 June 1994. She was 84.
Pilates is well known as an exercise programme to improve core strength, but what is lesser known is Pilates has a history of helping breast cancer patients recover from their illness.
Many Pilates exercises are weight bearing with a strong emphasis on good wrist and footwork. Stretching the fingers and toes, and building stronger bones help prevent osteoporosis and reduce peripheral neuropathy, two common side effects of cancer treatment and medication. Pilates also improves balance and reduces the risk of fall.
So get started, don't wait. Give Pilates a try today:
Pilates for Breast Cancer Recovery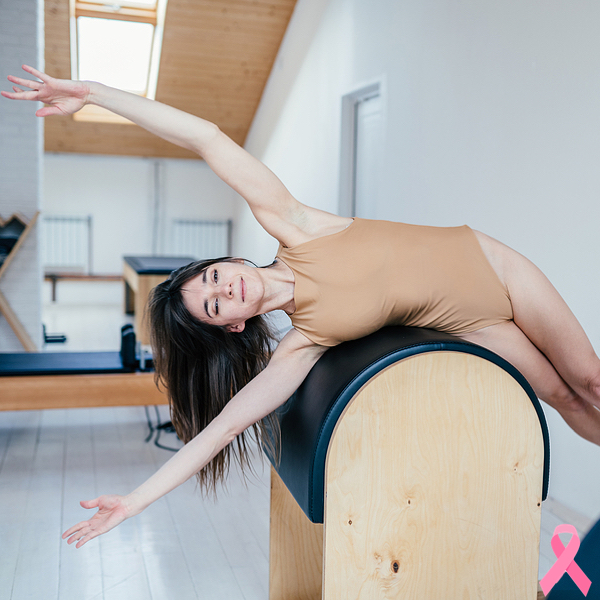 Pilates 1-to-1
When you are recovering from breast cancer, you may feel there are not many exercises you can do. Pilates is a good exercise to start. What you will receive from the 1-to-1:
Enjoy an exercise session personalised for you
Re-build strength and stretch the chest, back and shoulders with assistance from different Pilates equipment; feel better
Strengthen your core, improve posture
Different weight-bearing exercises with a focus on wrist- and foot-work; prevent osteoporosis, reduce neuropathy
Go slow on exercises you find difficult and speed up on exercises you find easy; exercise at a pace that suits you, improve faster
Access to Rehabilitation for pain relief and Personal Training for additional strength training
Don't wait, schedule a trial today.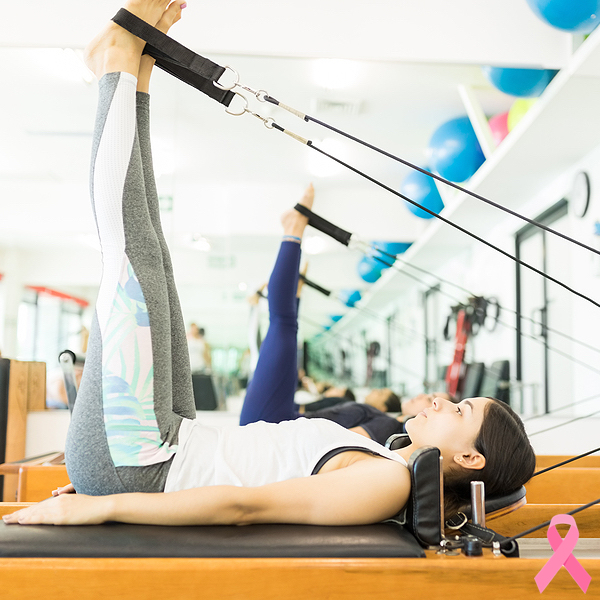 Group Class Pilates
When you are exercising for recovery, doing the exercises in a smaller group class offer many benefits. What you will receive:
A small class ratio of 3 participants to 1 instructor let you have the attention you need to perform each movement in good form; maximise the benefit
Stretch and strengthen your arms, chest and back muscles; feel better
Strengthen your core, improve posture
Enjoy a full-body workout
Available in the morning at 10 am and at lunch-time; take a quick break from your busy schedule to reset the body
Or join the evening or Saturday class; our Flexi Class Plan allows you to easily convert your daytime classes to evening or Saturday class to suit your schedule
Due to the small class sizes, slots for all timings are limited. So don't wait, reserve your slot today!