Pilates for Prostate Cancer Recovery
WHY PILATES
Finishing an exercise session may be the toughest thing to do when you are recovering from prostate cancer. Pilates is a good exercise for recovery. Pilates is low impact, yet the exercise offers a full-body workout to help you re-build your strength and endurance.
STRENGTHENS CORE, PELVIC FLOOR
Pilates also strengthens core muscles, the deep stabilising muscles of the body which include the pelvic floor and the deep abdominal and back muscles.
The pelvic floor is a sling of muscles that holds the prostate gland, bladder and bowel in place in the pelvis. The contraction and relaxation of the pelvic floor muscles help in the passing of urine, poo and wind in the stomach. The pelvic floor muscles also help with blood circulation and ejaculation during sex and orgasm.
Aggressive cancer treatment such as prostatectomy and radiotherapy not only remove cancerous cells, but also muscles of the pelvic floor. Urinary incontinence and erectile dysfunction are two common side effects of prostate cancer treatment. As the pelvic floor muscles are controlled by both the autonomic and somatic nervous systems, we could consciously control the pelvic floor muscles. As a result, we could re-strengthen the pelvic floor muscles with exercise.
The somatic nervous system control the conscious actions of the body, while the autonomic nervous system is responsible for the subconscious actions such as breathing, sweating and our heart beats. As the pelvic floor also comprises of somatic nerves — muscles we can control — we could activate the pelvic floor muscles with specific exercises.
Core exercise like Pilates which target the pelvic floor is particularly beneficial for men to help rebuild the pelvic floor muscles. Strengthening core muscles also strengthen the abdominal and back muscles which reduce low back pain, improve balance and overall fitness.
WHY EXERCISE
IMPROVES SURVIVAL RATE
Regular exercise greatly improves the survival rate of prostate cancer patients. In a 2011 study published in the Journal of Clinical Oncology, the researchers found prostate cancer patients who completed over three hours of vigorous exercise a week had a 49% lower risk of all-cause mortality, and a significant 61% lower risk of prostate-cancer specific death, compared to patients who did not exercise.
The study involved 2,705 men with prostate cancer over a period of four years. The activities they performed were cycling, tennis, jogging or swimming for more than three hours a week.
TRIGGERS PHYSICAL & CHEMICAL RESPONSES
Regular exercise promotes physical adaptation where the body becomes fitter and better in performing various activities. Exercise also transforms the microenvironment or milieu in the body into one which inhibits cancer growth.
In a smaller study in 2013, 10 healthy men were given 60 minutes of cycling. Blood serum was drawn from the men before and after exercise. The blood serum was poured over the prostate cancer cell-line LNCaP. LNCaP are prostate cancer cells which have been drawn from the body and placed in a tube.
The study found in 9 out of the 10 participants, there was a 31% reduction in prostate cancer cells in the blood serum after exercise, compared to the serum taken before exercise where there was no change in the number of cancer cells. The body did not produce any cancer-inhibiting chemicals when at rest. The study shows the benefits of exercise. Regular exercise allows the body to change both physically and chemically.
ENDOGENOUS MEDICINE
As many as 10 possible mechanism which are cancer suppressants occur in the body when you exercise, said Robert Newton, a leading exercise oncologist from Edith Cowan University in Perth, Australia.
Speaking in a webinar in 2020, sponsored by the Prostate Cancer Foundation of Australia, Newton said exercise helps the body to produce its own medicine. Being active creates "positive changes" in hormones and smaller molecules like cytokines which help fight cancer cells in the body.
Regular exercise also produces structural changes like increase in muscle mass and strength, and bone density as well as vascular changes which could not be driven by pharmacological medicine, said Newton.
TAKE ACTION
When it comes to health, men often don't take action which results in a delay in their treatment and recovery. Pilates is a good exercise for prostate cancer recovery. Strengthening the pelvic floor and core muscles prevent common side-effects of prostate cancer treatment such as urinary incontinence and erectile dysfunction from worsening. At the same time, Pilates offers a full-body workout to help you improve strength and fitness.
So take charge of your health, get started. Try a Pilates session today:
Pilates for Prostate Cancer Recovery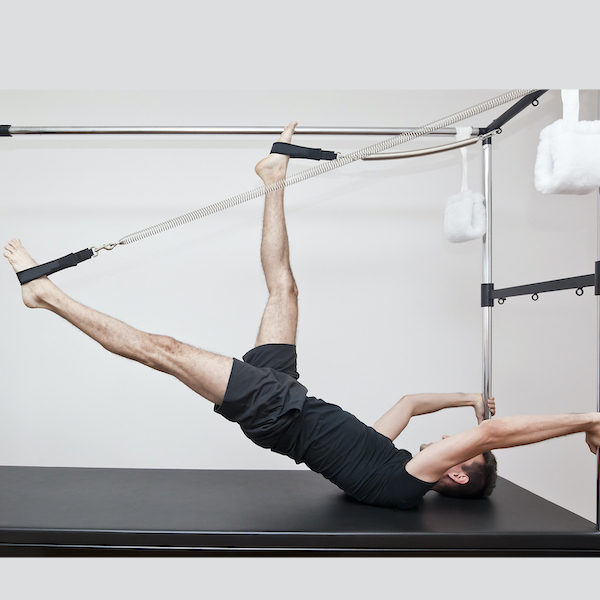 Pilates 1-to-1
When you are recovering from prostate cancer, you are easily tired. You may feel there are not many exercises you can do. Pilates is a good exercise to start. What you will receive from the 1-to-1:
Enjoy an exercise session personalised for you
Strengthen pelvic floor and core muscles with assistance from different Pilates equipment; re-gain strength, build endurance
Stretch and strengthen the chest, legs and back
Different weight-bearing exercises with a focus on wrist- and foot-work; prevent osteoporosis, ease neuropathy
Go slow on exercises you find difficult and speed up on exercises you find easy; exercise at a pace that suits you, improve faster
Access to Rehabilitation for pain relief and Personal Training for additional strength training
Don't wait, schedule a trial today.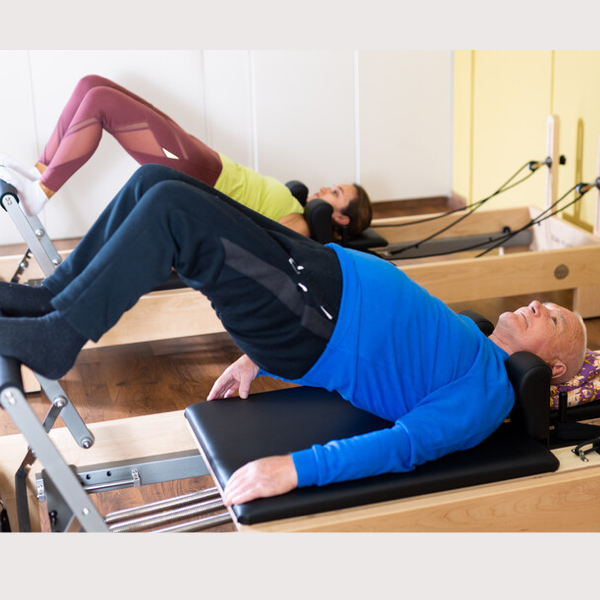 Group Class Pilates
When you are exercising for recovery, doing the exercises in a smaller group class offer many benefits. What you will receive:
A small class ratio of 3 participants to 1 instructor let you have the attention you need to perform each movement in good form; maximise the benefit
Strengthen pelvic floor and core muscles; re-gain strength, build endurance
Stretch and strengthen the chest, legs and back
Enjoy a full-body workout
Available in the morning at 10 am and at lunch-time; take a quick break from your busy schedule to reset the body
Or join the evening or Saturday class; our Flexi Class Plan allows you to easily convert your daytime classes to evening or Saturday class to suit your schedule
Due to the small class sizes, slots for all timings are limited. So don't wait, reserve your slot today!